Morning Commentary
CBOT Grains Rally While Soybeans Sag; World Wheat Prices Soar as Russian Tax Digested; Argy Weather Trend Drier
AgResource Farm Marketing Advice for Tuesday: 1/ No new advice.
6:30 AM CBOT Prices: March soybeans are down 11.75 cents to $14.05, March corn is down 0.50 of a cent at $5.3125 and March Chi wheat is up 14 cents at $6.90.
AgResource AM CBOT Comment & Analysis: Good Morning! CBOT values started higher on Monday, but soybean/corn futures quickly retreated on profit taking amid last week's improved Argentine rainfall pattern. Wheat futures bucked the selling with world fob prices rising and a slew of new import tenders for February/March. Egypt's GASC is likely to return to the world market in coming days with their import need acute beyond late February.
Active CBOT volume is noted with more than 44,000 contracts of March corn, 43,000 contracts of March soybeans, and 18,000 contracts of March Chi wheat changing hands overnight. Traders/Producers note that that CBOT market volatility will increase at current 7-year price highs with air gaps (both above and below the marketplace) adding to each day's trading risk. This 5-month-old bull market is no longer for the faint of heart or the timid as US grain futures margin's rise and daily price ranges expand.
Friday's CBOT open interest fell 1,919 contracts in corn, while rising 1,638 contracts in soybeans and 979 contracts in wheat.
World financial markets are mixed ahead of Pres Elect Biden's inauguration on Wednesday. The US dollar is weaker as the reflation trade comes back in vogue.
US Sec Treasury nominee, Janet Yellen, will be speaking to the Senate Finance Committee this morning to push Biden's $1.9 Trillion Covid-19 relief plan at a time when borrowing costs are low and the US economy is in need. Yellen will strongly argue a platform of its time to "think big" on new US stimulus.
Ukraine will decide on January 25th whether to restrict corn exports based on a request their livestock industry on soaring domestic feed costs. If the Ukraine Gov't decided to restrict corn trade it would follow Russia which raised their wheat export tax to €50/MT starting on March 1st, and then applied new export duties on corn/barley. And Argentina is said to have met with its grain industry and requested that exporters voluntarily restrict export volumes. Argentina has a long history that in bull grain markets is raises export taxes to participate in the financial windfall of its farmers.
The Mato Grosso soybean harvest is well behind historical averages with less than 1% gathered compared to 5% normally. Early Mato Grosso soy yields are disappointing with reports of an unidentified fungus causing beans to rot in their pods. The fungal incidence rate is low, but it will be closely monitored
In world ag markets, Paris wheat futures are rising to new contract highs with the March futures up €3.75/MT to €239.75. Malaysian March palmoil futures fell 94 ringgits at 2,256 RM/MT on weak export demand and fund long liquidation. China's Dalian May corn lost 5.50 cents to $11.31/Bu while May Dalian soymeal closed at $567.40/MT, down $2.90/MT.
Weekly Malaysian Palmoil Futures Chart; Key Trendline Support at 3410 RM/MT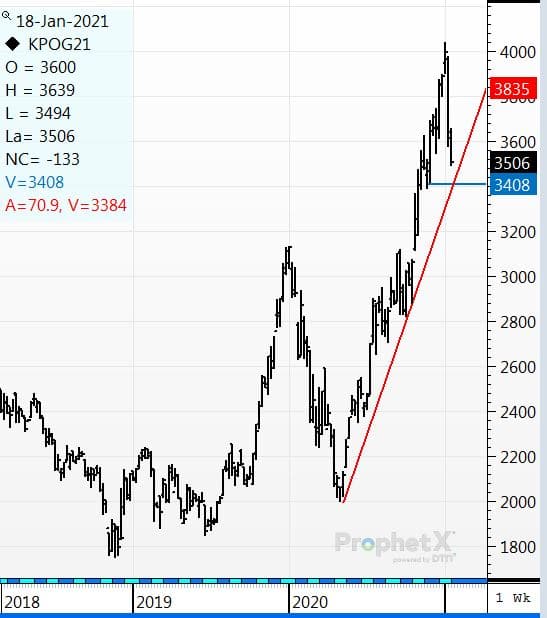 China is said to have secured another 2-5 US soybean cargoes for February to replace delayed Brazilian cargoes. There is no indication of needed US demand rationing for US soybeans/corn and any CBOT weakness should be temporary. This is a big bull market and wide trading ranges are expected with sharp rallies and breaks. However, ARC Research sees no indication of demand rationing or that a top has formed. Demand led bulls normally peak with a spike in price that exceeds market participants expectations.
South American Weather Pattern Discussion: The primary weather models are not in the best agreement with the EU/Canadian models being drier than the GFS for Argentina next week. Also, most of NE and N Brazil will hold in a dry weather pattern with warming temperatures.
The 2020 South American weather pattern is abnormal with the forecast models struggling with the details of rainfall locations/amounts for Argentina beyond the next 8 days. ARC's South American weather forecast lean is to the EU model based on La Nina's strength and the correlation that La Nina produces dry weather in February/March across Argentina and far Southern Brazil.
The 10-day rain forecast map is from the EU model. Dry weather returned to Argentina on Saturday and persisted through the long US holiday weekend. A nice shot of needed rain fell late last week across Argentina. An arid weather trend has returned with limited rains for the next 10 days with warming temps. Highs look to reach the 90s/lower 100s which will quickly evaporate last week's rain.
Dryness will also prevail across NE and N Brazilian soybean areas with 90's for highs. ARC's concern for S American weather stays high with a good portion of N Brazil and Argentina to hold in a drier profile into mid-February.
Limited Rainfall Next 10 Days for Argentina and NE Brazilian Crop Areas:
Soil Moisture Draws noted throughout much of South America Next 10 days:
Heat Next 7 Days for Much of Argentina: 90's and few lower 100's.