Morning Commentary - 09/13/2019
China Excludes Some US Goods from Additional Tariffs - Pork and Soybeans; Trump Optimistic on New Biofuel Package; US Weather Shows No Frost/Freeze
** AgResource Farm Marketing Advice for Friday: 1/ Corn Producers: Sell 20% of the 2021 corn crop at $4.26 basis Dec 2021 corn futures. This would price 60% of the 2021 corn crop.
** 6:30 AM CDT CBOT Prices: November soybeans are up 2.5 cents at $8.98, Dec corn is up 1.0 cent at $3.6825 with Dec Chi wheat up 5.25 cents at $4.89.
** AgResource Morning CBOT Comment/Analysis: Good Morning! Mixed to firm has been the CBOT trade overnight as Thursday's higher close offered confirmation that seasonal lows had been forged. Corn, soybeans and wheat are all trading higher this morning in the hope of additional Chinese buying of US soybeans.
US President Trump indicated late Thursday that the US may be open to a partial trade deal with China, but that he preferred a total pact. Earlier on Thursday, the POTUS indicated that he was absolutely against a phased deal, and that nothing was agreed to unless all was agreed to!
The shift in Trump's one day thinking is raising hope that US trade deal with China could be reached that includes a reduction or elimination of tariffs on both sides. Yet, President Trump sees himself as the "tariff man" and he would have to relent on China's structural incentives provided to state entities and China's 2025 objectives which is doubtful.
China's State Council indicated overnight that China will exclude some ag products including US soybeans and pork from additional tariffs. Clarification is being sought as to what is meant by excluding additional tariffs? However, Chinese sources tell ARC that US soybeans and pork are no longer subject to the tariff rise that was due to occur as a countermeasure to US tariffs in September, October and on December 15th. The prior tariff rates that were established in 2018 are still in full effect.
The State-Run Global Times of China is reporting this morning that President Trump has not done enough to produce a breakthrough in the talks and that future negotiations will be very difficult. A trade deal is far from certain.
US President Trump also reporting that there has been considerable progress scored in biofuel related issues. Without being specific, Trump made this comment following a meeting with farm state Senators at the White House late Thursday. Today is the self-imposed deadline for a decision on helping the US ethanol industry after EPA granted waivers to 31 refiners in August. Big oil is fighting for a reduced US biofuel blend rate. The marketplace will be watching for biofuel news/tweets today that hopefully will offer a solution.
The Brazilian weather forecast is arid for the next 10 days weeks with better rains chances in the 11-15 day period. The forecast change to wetter comes with reduced confidence, but we mention an increase in rain potential.
The forecast does offer cooler temps for Canada and the Central US in its 11-15 day period, but there is no chance of a frost/freeze into early October. The extended range forecasting models offer frost free weather into the 1st full week of October. This would favor late maturing US crops.
Seasonal CBOT lows were scored this week, but we doubt that an initial rally can carry too far above $9.10 in November soybeans, $3.75 in December corn or $5.00 in Dec Chi wheat. Amid US/China trade uncertainty – don't chase rallies.
** North American Weather Pattern Discussion: The EU & GFS forecast models are in poor agreement and our confidence in their forecast stays low. Clients should pay their most attention to the 7-day forecast until the models are able to end their differences on tropical storms & a late month Canadian cold wave.
The GFS model has introduced cooler temps for Canada and much of the NC US. The frost does not reach down into the Central US, but the new cooler trend would slow crop maturation. The EU and Canadian forecast models are warmer and offer no threat for a Central US frost/freeze into early October.
Thursday's long-range weekly EU weather forecast left frost out of the Midwest weather equation until after October 10th. Beyond this point, its doubtful that a frost/freeze would produce considerable US corn or soybean yield damage. US farmers may get the break that they wanted in terms an extended growing season. ARC sees no real threat for a frost/freeze event into early October.
The tropics remain active and two storm systems will be noted over the next 10 days. Two storms look to stir up the Eastern US Seaboard. Gulf storms are absent so far this season.
** 1st Week October Temp Anomaly for North America- No Frost/Freeze into October 7th: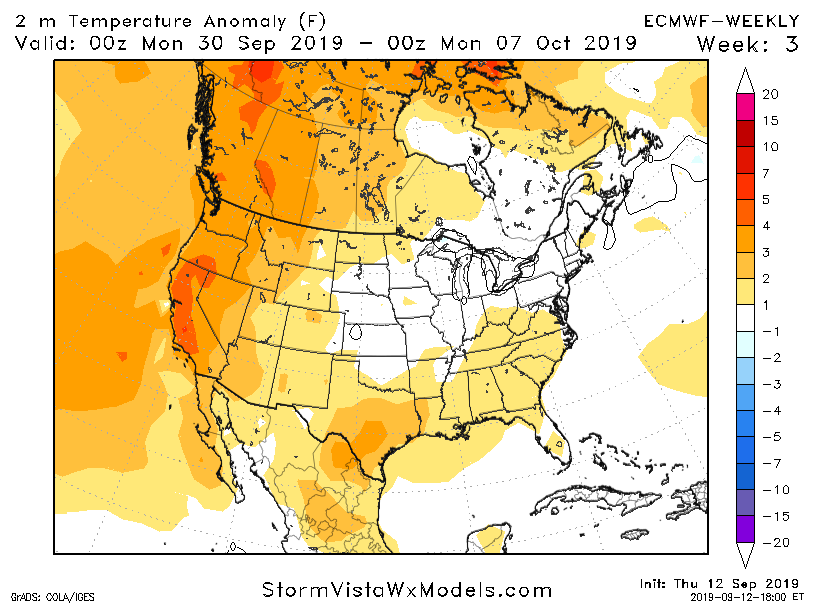 ** Heavy Upper Midwest Rainfall Subsides Following Weekend: