AgResource Update 06-10-2019
CBOT Grains Start Week Lower on Focus on Central US Weather; Cattle Called Mixed as Funds Pare Longs
** AgResource Farm Marketing Advice for Monday: 1/ Corn Producers: Sell 20% of the estimated 2020 corn crop at $4.23. This would price 60% of the anticipated 2020 corn crop. 2/ Corn Producers: Sell 20% of the 2021 corn crop at $4.24 and 20% at $4.29 basis Dec 2021 corn futures.
** 6:30 AM CDT CBOT Futures: July soybeans are down 5.00 cents at $8.5125, July corn is down 3.50 cents at $4.1225 & July Chi wheat is down 7.25 cents at $4.9725.
** AgResource Morning CBOT Comment/Analysis: Good Morning! CBOT grain and soy futures are lower to start the week on improved Central US weather forecasts.
The volume of overnight CBOT trade remains elevated with over 25,000 contracts of July corn, and nearly 11,000 contracts of July soybeans and over 7,000 contracts of July Chi wheat changing hands.
The US and Mexico reached a deal to avoid tariffs that were set to start at midnight. The US Senate was likely to overturn any US tariffs on Mexico, which likely caused US President Trump to declare victory and the resultant deal.
However, what is confusing is statements from Administration that Mexico will be securing large amounts of US ag goods? Any details of a new trade pact or pledges of large new Mexican ag demand are absent. Mexico is not mentioning any new large new ag demand. However, there are statements that Mexico will remain a reliable buyer of US ag goods now that the US tariff threat has ended.
However, as one trade skirmish ends, the market is back to thinking about the late June G20 meeting between US President Trump and Chinese President Xi in Japan. The US ramped up pressure against President Xi on Sunday with Sec Treas. Mnuchin saying that he wants China to return and agree to the prior May trade pledges or US President Trump will be prepared to level another $300 Bil of 25% tariffs against China. Since China did not agree with the prior deal in May, the odds of them agreeing now is rather remote.
The USDA will release the season's 1st crop condition report on corn. ARC looks for some 48-53% of the US corn crop to be rated GD/EX, well down on prior years due late seeding amid less than desired stands. ARC also expects that 82-84% of the US corn and 63-67% of the soy crop to be seeded thru Sunday with farmers reporting their best weekly planting progress of the season.
In recent weeks, the bullish crop progress report has caused traders to sell the news, which we argue will be the case again this week with the USDA to release its June crop report on Tuesday. Traders are looking for WASDE to knife over 700 Mil Bu from its May corn production total due to a combination of diminished seeded acres and yield. However, ARC research estimates that when Dec corn was over $4.50, that the market was estimating losses closer to 2.0 Bil Bu. WASDE will likely be conservative in Tuesday's June WASDE report.
Central US weather will be cool/dry-ish this week with another 5-6 days of planting opportunity before better rain chances return. Many Midwest farmers hope to complete their intended spring planting effort this week. However, warmer temps are needed which should return during the 10-15 day period.
Limited rain and above normal temps are slated for Russian winter wheat.
The CBOT's focus is shifting from planting losses to 2019 yield potential. ARC would see any post weekly crop progress and condition report rally as a new selling opportunity with the Central US weather pattern being non threatening.
** AgResource Daily Cattle Analysis: Cattle futures were lower at the end of last week, and a steady/weaker outlook is offered for early trade this morning. Cattle futures traded lower through the week, under pressure from fund liquidation and weaker cash trade in the Plains. However, August feeder cattle managed the 1st higher weekly close in 4 weeks.
The week's cash trade was lower, with sales in the south down $2 at $113, while trade in north was at $114-115 or $1-2 lower for the week.
Cattle slaughter for the week rebounded back to 662,000 head, which kept pressure on beef prices. The choice cutout ended the week down $.90 and select was off $.77.
The CoT report showed that for the week ending June 4th funds had liquidated another 17,600 contracts for a net long position near 48,000, while hedgers covered close to 16,000 contracts. The fund position is likely on its way back to even, which will coincide with a summer low.
Technically, CME futures are deeply oversold, and fundamentally 3rd quarter futures are the most undervalued. Both cash and futures markets continue to search for a low.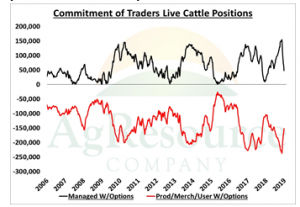 ** North American Weather Pattern Discussion: The EU & GFS models are not in the best agreement. As was the case for most of last week, the GFS is wetter in its 10-day forecast and is having difficulty with potential tropical development in the Gulf. Our forecast lean remains with the more accurate EU model which is outlined below.
A deep upper level Trough over Central Canada will slowly shift eastward over the next 8 days with a zonally flowing jet stream to the south of the US/ Canadian border producing near to below normal Midwest rainfall for the next 5-6 days. The dry/cool weather will allow producers to nearly finish their spring planting effort by mid June. A storm system is noted for the weekend and early next week which along with a warming trend back to seasonal temps in the 10-15 day period sets up more favorable growing conditions. The big worry for Central US crops going forward is GDD units for the late seeded and immature crops.
The 10 day EU rainfall map depicts that the heaviest rain will fall across the Plains and through the E Midwest, Delta and the E Midwest with totals of 1-2.50". The remainder of the area will see rains of .25-1.25" which is rather normal. Temps will be below normal with highs in the 60's-80's.
** 5 Day Rainfall Forecast into Saturday: Good Seeding Progress Expected Across the Midwest:
** Better Rains Return during the 6-10 Day Period: EU Model 10 Day Rainfall Forecasts: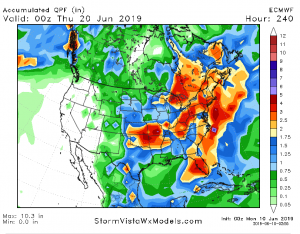 ** Cool to Cold Across the Central US next 6 Days; Slow Warming Thereafter:
Copyright © 2019 AgResource Company, All rights reserved.
You are receiving this email because you are subscribed to the AgResource Daily Report